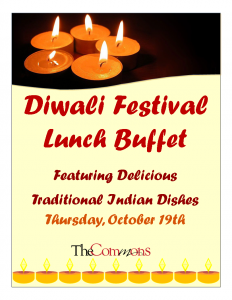 Diwali, also known as the "Festival of Lights" is one of the most joyous holidays in India. Its name originates from "Avali," meaning row, and "Deepa," meaning clay lamps, because of the row of clay lamps Indians light outside their homes. It is a celebration with families and friends ringing in the Hindu New Year.
Visit The Commons on Thursday, October 19 during lunch and celebrate the holiday with traditional Indian dishes like chicken vindaloo, fish tikka masala, and dal makhani.
Questions: email dining@iit.edu.