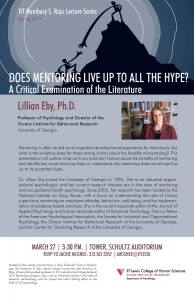 IIT Lewis College of Human Sciences will host the Nambury S. Raju Lecture Series, featuring Lillian Eby from the University of Georgia, on Friday, March 27, 2015 at 3:30 p.m. in the Schultz Auditorium in the IIT Tower.
Mentoring is often touted as an important developmental experience for individuals. But what is the evidence base for these strong claims about the benefits of mentoring? This presentation will outline what we know – and don't know – about the benefits of mentoring and identify key issues that may help us understand why mentoring does not always live up to its purported hype.
Lillian Eby joined the University of Georgia in 1996. She is an industrial-organizational psychologist, and her current research interests are in the area of mentoring and occupational health psychology. Since 2005, her research has been funded by the National Institute on Drug Abuse, with a focus on understanding the role of clinical supervisory mentoring on employee attitudes, behaviors, well-being, and the implementation of evidence-based practices. She is the current associate editor of the Journal of Applied Psychology and former associate editor of Personnel Psychology. She is a fellow of the American Psychological Association, the Society for Industrial and Organizational Psychology, the Owens Institute for Behavioral Research at the University of Georgia, and the Center for Gambling Research at the University of Georgia.
RSVP with Jacqueline McGhee at jmcghee@iit.edu.