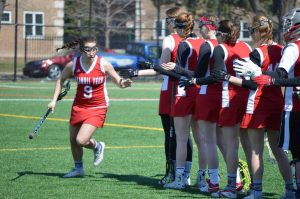 The Illinois Tech Women's Lacrosse team remained unbeaten in Midwest Women's Lacrosse Conference play on April 5. The Scarlet Hawks and Benedictine University Eagles combined for 29 goals on a rainy night in Lisle, with Illinois Tech prevailing 18-11.
Team Records
Illinois Tech (11-1, 7-0 MWLC)
Benedictine (5-6, 2-4 MWLC)
How it Happened
Benedictine jumped ahead with a goal just 30 seconds into the contest, but it did not take long for the Scarlet Hawks to take control. Alyssa DeLuca scored twice before a Madison Meredith goal at the 24:17 mark put Illinois Tech on top 3-1 with 24:17 left in the half.
After another BenU goal, a 4-0 run by the Hawks with goals from four different goals gave the team a 7-2 lead with 16 minutes remaining in the half.
The teams traded goals until a 4-0 run by the Scarlet Hawks closed out the half. Illinois Tech lead 14-6 at the intermission.
The first 15 minutes of the second half were all BenU, as the Eagles scored five straight goals to pull within three at 14-11.
Illinois Tech ended the match on a 4-0 run of its own. Meredith scored twice in the final 13 minutes.
Scarlet Hawk Standouts
Stats to Know
Illinois Tech continues to clear possession at an impressive rate. Illinois Tech was 12-of-14 on clearing attempts compared to nine-of-14 for the Eagles.
Illinois Tech won the shots tally 34-19.
Neither team picked up many ground balls (Illinois Tech 18, BenU 13).
Up Next
The Scarlet Hawks take a break from conference action on Saturday, April 8. The team will host its final non-conference game against the University of Dallas at 5 p.m. at Stuart Field. Live audio, video, and stats are set to be available.