Illinois Institute of Technology will host the 35th annual DuPage Area STEM Expo (formerly Engineers Week) at its Daniel F. and Ada L. Rice Campus in Wheaton, Illinois. Part of the 2019 National Engineers Week, the expo will take place on Saturday, February 23 from 10:30 a.m.–3:30 p.m. Faculty, staff and students are invited to attend with their families.
The DuPage Area STEM Expo provides free family fun with the opportunity to make—see—build—create—learn. Families will experience a series of 50-plus interactive displays, shows, and exhibits that demonstrate the fundamentals of science, technology, engineering, and math. Volunteers from professional societies, education, business, and government donate their time each year to promote an active interest in learning and to show the intriguing and applicable results of numerous scientific principles.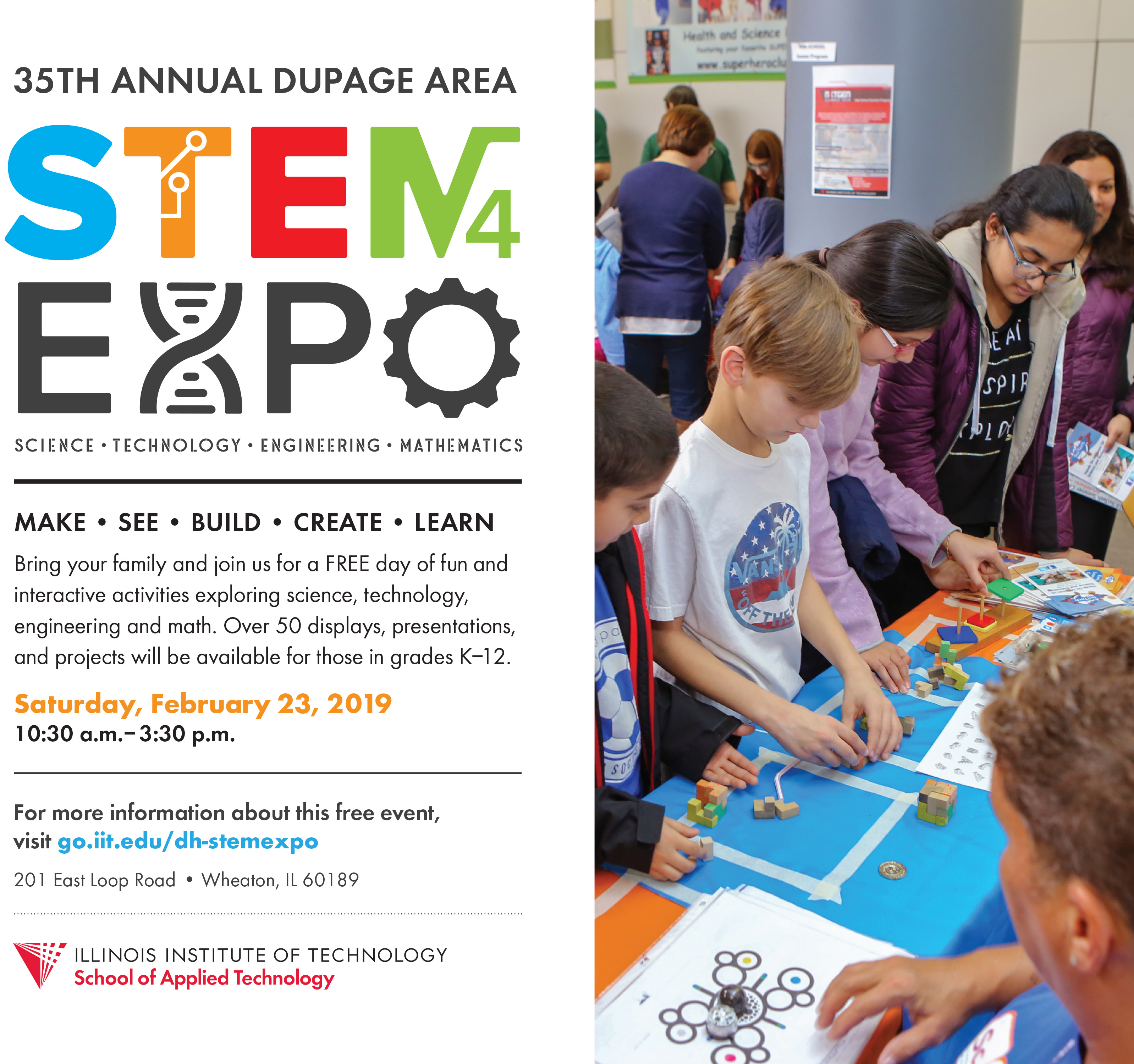 This expo includes everything from model airplanes, to lasers, robots, and many interactive learning opportunities and hands-on activities for kids and adults. Exhibitors include the DuPage Children's Museum, "Zoom: Engineering" and "Design Squad"—two popular PBS television series—as well as a multitude of professional STEM societies and businesses.
Among the shows taking place at the expo will be the popular "Mr. Freeze Cryogenics Show," of Fermilab, which includes a few controlled explosions as well as items dropped into liquid nitrogen to freeze in seconds. Advance tickets are required. Other activities include: building a "launchable" rocket or Nakamura Lock paper airplane and testing how far it will fly; testing your own building designs under simulated earthquake conditions; having your hair stand straight up thanks to the forces of static electricity; playing with Legos and robotic demonstrations; and learning about Bernoulli's principle and the forces of lift, thrust, gravity, and drag and how they relate to aerodynamics.
You can also review MakeXchange's Inventing with Electronics and its airplane launcher on display for demonstrations; tour Rice Campus' own computer history museum; put out a pretend fire while learning fire-safety tips; watch safe demonstrations for radiation detection and a model fuel bundle for a nuclear reactor; and engage in many more hands-on activities. Illinois Tech students will offer activities specifically designed to engage K-12 students in engineering and technology.
All DuPage Area STEM Expo events are complimentary and open to the public. Rice Campus is located at 201 East Loop Road, Wheaton, Illinois. For more information regarding DuPage Area STEM Expo, please visit appliedtech.iit.edu/stemexpo or contact Ann Scorza at 630.682.6005 or ascorza@iit.edu.