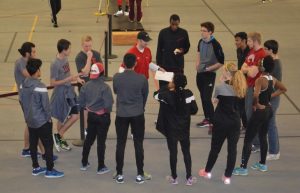 It was another promising meet for the Illinois Tech Women's Track and Field team on February 18 at the University of Chicago's Margaret Bradley Invitational. The Scarlet Hawks set a school record while placing seventh at the meet.
Meet Highlights
Mminika Effiong broke the school record in the long jump, placing fourth with a time of 4.93m. Jaquelle Rowell followed her in the event with a 4.67m mark and a ninth-place finish. 
In the triple jump, Emmalee Ciriacks placed fifth at 9.90m.
Monica Bhagavan placed 14th in the 60 Meter Dash with a time of 8.70s.
The 4×400 Meter Relay team of Rowell, Bhagavan, Ciriacks, and Julia Briden placed fourth with a time of 4:39.25.
Up Next
Illinois Tech will head to Anderson, Indiana, on Saturday, February 25 for the Anderson University Fred Wilt Invite.