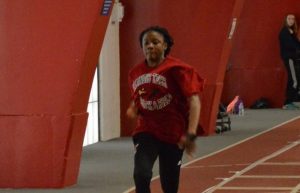 The Illinois Tech Women's Track and Field team competed at the University of Chicago in the Ted Haydon Invite on April 1. The Hawks competed hard, placing 14th at the meet.
Meet Highlights
Mminika Effiong placed third in the long jump, reaching a mark 4.98m. This third-place finish was in a field of 19 participants. 
Freshman Emmalee Ciriacks ran a time of 17.63s in the women's 100m dash, placing 25th.
Junior Genevieve Hummel also competed in the 100m dash, clocking in a time of 18.75s which placed her 30th. She also competed in the 200m, running a time of 40.29s (32nd place).
Up Next
The Scarlet Hawks will compete in the Milikin University Big Blue Alumni Invite on Saturday, April 8 in Decatur, Illinois.