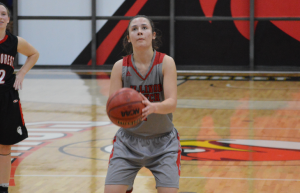 The Illinois Tech Women's Basketball team opened its home schedule on November 28 against Lake Forest College. The Scarlet Hawks fell in a close contest to the Foresters 53-43.
How it Happened
Both offenses struggled for most of the night, but the first quarter was a struggle moreso than any other. Lake Forest was just four-of-18 while Illinois Tech was two-of-16. The Foresters led 11-5 at the end of the first quarter despite Illinois Tech holding a 17-9 rebounding advantage.
The offenses started clicking in the second quarter, with Lake Forest outscoring Illinois Tech 18-13. Kaylee Wicka scored five points for the Scarlet Hawks in the second quarter as Lake Forest led 29-18 at intermission.
Illinois Tech continued its rebounding dominance in the third quarter, but an efficient Forester offense (44.4% from the floor) allowed LFC to keep the lead and outscore Illinois Tech 13-11.
In the fourth quarter, Illinois Tech would outscore Lake Forest 14-11. Erin Efimoff scored eight of her game-high 16 points while April Wanagas poured in four of her own. The Scarlet Hawks would cut the lead to single digits, but ultimately fell 53-43.
Scarlet Hawk Standouts
Efimoff logged career-highs in points (16), minutes (37), free throw makes (eight) and free throw attempts (14). The freshman also corralled four rebounds.
Wicka scored seven points and pulled down seven rebounds in just 17 minutes of action.
Venika Jarvis led all players on the glass, logging 10 rebounds in just 20 minutes. Raiven Johnson was not far behind, tallying nine of her own over the same amount of time.
Wanagas and Madison Davis each ended up with six points. Davis also logged seven rebounds, while Wanagas added three steals.
Stats to Know
Illinois Tech held a decisive rebounding advantage, outdoing the Foresters 54-39.
Lake Forest was 20-of-59 from the floor (33.3%) while Illinois Tech was 14-of-60 (23.3%).
The Scarlet Hawks attempted 27 foul shots compared to Lake Forest's 16.
Up Next
The Scarlet Hawks will head to nearby Aurora University on Wednesday, November 30 for a 7 p.m. tip-off. Aurora will provide live coverage.