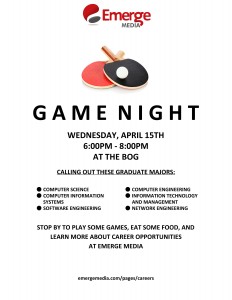 Emerge Media is hosting a game night on Wednesday, April 15, 2015, from 6-8 p.m. in The Bog in Hermann Hall. Join Emerge Media staff for food, pool, ping pong, darts, and more, and learn about career opportunities at their company.
Emerge Media is looking in particular for students with graduate majors in the following areas:
● Computer Science
● Computer Information Systems
● Software Engineering
●Computer Engineering
●Information Technology and Management
● Network Engineering
See current job openings at Emerge Media here.