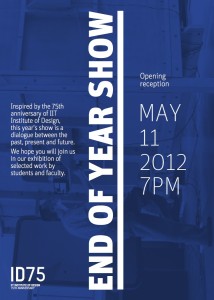 Inspired by the 75th anniversary of the IIT Institute of Design, this year's show is a dialogue between the past, present and future.
Please join us on May 11, 2012, for an interactive exhibition of selected work by students and faculty.
Friday, May 11, 2012 – 7 pm
350 N. Lasalle St., 6th Floor
Chicago, IL 60654
The show can be viewed through May 13. For more details, visit the event page on Facebook.