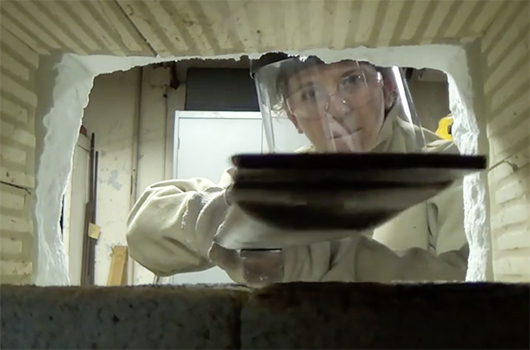 A team of undergraduate and graduate students from the Illinois Tech Material Advantage Chapter produced a blade for the Minerals, Metals, and Materials Society (TMS) Bladesmithing Competition. The group set out to produce a champagne saber made of superior quality decorative steel they would forge using severe plastic deformation.
Students who participated in the project included team leader Mary Hawgood (MSE '17), Stoichko Antonov (Ph.D. MSE '17), Devin Ellis (BME '16), John Hasier (Ph.D. MSE '17), Kathy Ho (M.E. MSE '17), George Kim (Ph.D. student MSE), Paulo S.M. Kodaira (MSE 2nd year), Andrew Kubacki (MSE 4th year), Wojciech Lukaszczyk (ME 5th year), Kathleen Mullin (MSE 4th year), and Benjamin Whitledge (MSE '16). The Material Advantage faculty advisor is Leon Shaw, Rowe Family Chair Professor in Sustainable Energy and professor of materials science and engineering. The faculty mentor for the bladesmithing project was Philip Nash, Charles and Lee Finkl Professor of Metallurgical and Materials Engineering and director of the Thermal Processing Technology Center.
The team created the blade from raw materials using accumulative roll bonding (ARB). For this technique the group stacked industry standard materials into alternating layers and packed them into a stainless steel tube. That tube was then placed into a furnace and heated to around 1000 degrees celsius. The tube is then removed from the furnace and passed through rollers that reduce the thickness of the packed tube. This process causes the different types of steel to bond together and is continued until a desired length is achieved. The samples of material are then removed from the tube, cut to shape, brushed to a clean surface and polished using an emery cloth. Final finishing included attaching a handle made out of purpleheart wood.

This process did not come without its challenges. In the beginning the group had no smithing experience and took it upon themselves to learn all they could from reading literature and watching YouTube videos. Being the first team from Illinois Tech to participate in the competition, they didn't always have the proper equipment to complete their tasks. This required the group to request funding from the university's Student Activity Fund and seek resources throughout Illinois Tech to complete their blade.
The students utilized space and equipment all over campus to finish the project. They used the "hot" rolling lab in Perlstein Hall to complete the ARB process; the metallurgy labs and machine shops in the John T. Rettaliata Engineering Center to finish the blade and for material characterization; the shop in Alumni Hall to create the handle; and the Idea Shop and shop in the Robert A. Pritzker Science Center to affix the handle to the blade. The group overcame all obstacles in their way and successfully completed the blade due to their overwhelming enthusiasm for the project.
Although they did not place in the competition, the group has learned a lot from their experience. "This competition gives students an opportunity to gain hands-on experience in techniques involving metallographic preparations, material characterization, an effective ARB process, product finishing, project follow-through, and social networking with resources in a company," shares Ho.
It also provided the students an opportunity to have their work published. "I am first author on the paper we wrote for this project which is one of the main reasons I have been offered a Ph.D. candidacy at another institution," says Hawgood.
Student-led projects like this are a great opportunity for undergraduates to get involved in the research process. These projects can also serve as a path to direct undergraduates into programs such as Armour R&D, where they can continue their research experience working with an engineering faculty member. It is also an outlet for students who have previously participated in Armour R&D to start and lead a research group on their own. "My experience writing reports and making posters for Armour R&D were definitely utilized during the competition," states Hawgood.
If your are a current Illinois Tech student interested in participating in the competition next year, please contact Wojciech Lukaszczyk to find out more.