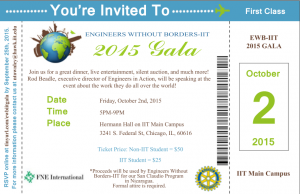 Illinois Institute of Technology students, faculty, and alumni are invited to attend a Gala for Engineers Without Borders IIT (EWB-IIT) student chapter from on Friday, October 2, 2015 from 5-9 p.m. in the Hermann Hall Ballroom. The around-the-world themed event will allow students and faculty to network with local nonprofit organizations and companies, including keynote speaker Rod Beadle from Engineers in Action. This presents a great opportunity for students to meet with employers and faculty to meet with engineering professionals. In addition to a dinner, silent auction, and live entertainment, guests will be entertained with a life-sized hot air balloon basket. All proceeds will be used by EWB-IIT to solve internationally recognized issues, such as proper sanitation and hygiene in Nicaragua.
EWB-IIT with the help of FNE International and Rotary International has been working on two projects in San Claudio, Nicaragua. The first project is to build a bridge so residents can access churches, schools, and markets from May to December when flooding makes access to these facilities impossible. The second project is to raise the overall sanitation level of San Claudio by installing sanitary latrines and educating residents on basic hygiene principles.
The Illinois Tech community is invited to this event and to support these projects while having the opportunity to network with engineering professionals and alums. Tickets are $20 for students and $50 for non-students. For more information and to register click here.