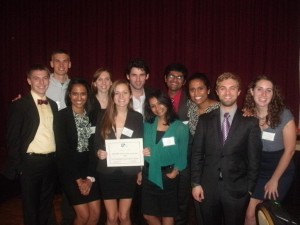 The Engineers Without Borders USA IIT chapter has been named the 2012 EWB-USA Regional Premier Chapter for the Great Lakes Region, edging out over 40 other student chapters. They will move on to the national competition as one of seven student chapters eligible to win the coveted title of 2013 EWB-USA Premier Student Chapter. At the same time, former chapter president and recent IIT alumna Dhara Shah (BME, 2012) was named president of the EWB Great Lakes Region, having served previously as Illinois State Representative.
The IIT chapter was recognized specifically for the group's large student base active in multiple civic engagement projects, participation in the activities of the Chicagoland local chapter, and for showing exemplary courage in deciding to close out of the long-running Haiti program.
Opportunities with EWB are not just restricted to engineers! It takes committed individuals from all backgrounds to "build a better world, one community at a time," the EWB motto. Students are encouraged to check out the chapter website to learn more about projects to get involved in, get onto the group mailing list and attend the next general body meeting at 12:50 pm on Monday, October 22 in Perlstein Hall Auditorium.