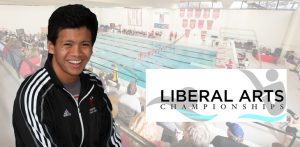 The Liberal Arts Conference has named Julian Escasa Men's Swimmer of the Week for his performance at Lawrence University on January 14.
The sophomore had one of his strongest meets of the season, capturing first place in the 100 Yard Butterfly with a time of 55.37s. He also placed second in the 200 Yard Freestyle at 1:48.04, trailing only teammate Karsen Diepholz in the event. Escasa was also the first swimmer in Illinois Tech's winning 400 Yard Freestyle Relay team, delivering a time of 49.29s in his leg of the race. The Chicago native's efforts helped the Scarlet Hawks earn a 159-48 victory in the dual meet.
Escasa and the Scarlet Hawks are back in action on Saturday, January 21 in Keating Sports Center's Ekco Pool. Illinois Tech will host a dual with Carroll University at 1 p.m. Live video will be available for the event, streaming on www.illinoistechathletics.com and Facebook Live.