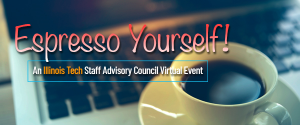 Gimme a high five…virtually! As we navigate through these unprecedented times, we haven't been able to give or receive acknowledgement face-to-face. How can we support and give kudos to each other from afar?
The January Espresso Yourself is going to give everyone the opportunity to discuss how we may be able to do this. How can we give recognition virtually? Please come ready to share what you have tried in your departments or any ideas that you might have and learn what others are doing.
Bring your lunch or coffee and join the Staff Advisory Council in the interactive conversation on January 14, 2021 from 12:45 p.m. to 1:45 p.m.
Please register for this event here. You can join the discussion online via your web browser at 12:45 p.m. on Thursday, January 14, 2021 here. As always, we'd love for you to Submit Your Ideas to us on all staff-related topics.
We look forward to you joining us this month!
Illinois Tech Staff Advisory Council
staffcouncil@iit.edu