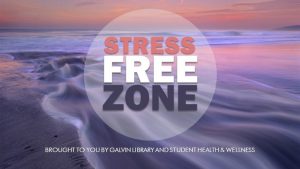 De-stress at Paul V. Galvin Library April 26 through Thursday, May 3.
The research is clear: exercise is a great way to de-stress. We have partnered with Illinois Tech's Department of Psychology and Keating Sports Center to get two exercise bikes in the library during finals. Pedal away on the northeast corner of the upper level at Galvin Library April 26–May 3. This opportunity is brought to you by the Behavioral Health and Wellness program at Lewis College of Human Sciences.
Rather soothe than cycle? Check out the Stress Free Zone in Galvin Library April 26–May 3 from 9 a.m.–9 p.m. The zone is located in the Cherry Room near the Group Study Suite in the lower level of Galvin Library.
The zone will be a quiet space for relaxation and will include:
calming aromatherapy
listening stations with relaxing music
coloring stations for stress relief
low lighting for a relaxing atmosphere
therapeutic kinetic sand
information on relaxation techniques and self-care
Note: studying, cell phone usage, food, and conversation is not allowed in the zone.
The Stress Free Zone is brought to you by Paul V. Galvin Library and the Student Health and Wellness Center
And remember, Galvin Library will be open 24 hours for 13 days beginning Sunday, April 22 at noon through Friday, May 4 at 7 p.m. Questions? Contact us at library@iit.edu.