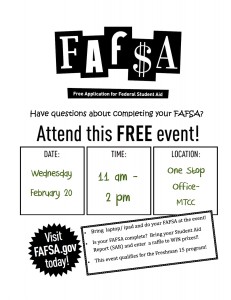 Stop by the One Stop in the MTCC today from 11 am – 2 pm to take part in the FAFSA Frenzy!
If you have already completed your FAFSA (Free Application for Federal Student Aid), bring your Student Aid Report (SAR) for a chance to win lots of great prizes. An electronic copy of the SAR is acceptable. Prizes include restaurant and movie gift cards, a flip video camera, IIT apparel and a grant prize of an iPad Mini!
If you have yet to complete your FAFSA, you can do so at the Frenzy. Bring an iPad or laptop and enjoy snacks while applying for aid. No documents are necessary, though W-2s and tax returns are helpful for you and your parents. Financial aid staff will be available to help answer any questions you may have.
Please direct questions you may have by contacting the Office of Financial Aid at 312.567.7219 or the One Stop at 312.567.3810.