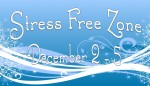 Hosted by the Office of Campus Life, the 2013 Stress Free Zone will take place the week of December 2-5. Stop by during finals and enjoy the following events:
Monday, December 2, 2013
8:30am—5pm
Open study area with coffee & tea in the McCormick Tribune Campus Center (MTCC) Ballroom.
Noon—3pm
Relaxation Zone in the MTCC Welcome Center
Tuesday, December 3, 2013
11am-4pm
Cookie Decorating in the Campus Life Suite and a special appearance by Solly the Therapy Dog at 2pm.
10pm—Midnight
Late Night Breakfast in The Commons.
Wednesday, December 4, 2013
9:30pm
Midnight Madness with Greek Council — Flirty Cupcakes will be at the South Lawn. The first 200 attendees will receive a free cupcake.