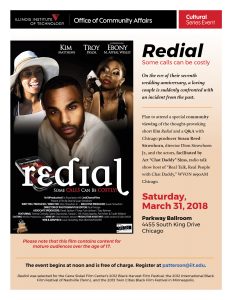 Please join the Office of Community Affairs and Outreach Programs for a special community viewing of the thought-provoking short film Redial on Saturday, March 31 from noon–3 p.m. at the Parkway Ballroom (4455 South King Drive, Chicago). A Q&A with Chicago producer Dion Strowhorn Jr. and the actors, facilitated by Art "Chat Daddy" Sims, radio talk show host of "Real Talk, Real People with Chat Daddy," WVON 1690 AM Chicago, will immediately follow.
The film follows a loving couple on the eve of their seventh wedding anniversary who are suddenly confronted with an incident from the past.
Redial was selected for the Gene Siskel Film Center's 2012 Black Harvest Film Festival, the 2012 International Black Film Festival of Nashville, and the 2013 Twin Cities Black Film Festival in Minneapolis. Please note that this film contains content for mature audiences over the age of 17.
The event is free. Register at patterson@iit.edu or 312.567.8850.