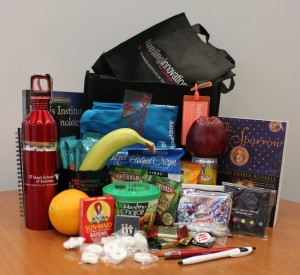 As IIT students look ahead to Finals Week, and working long hours studying, writing, and finishing projects around the clock, do you anticipate long sleepless nights with no time to eat or do laundry? Do you worry about finding a seat at Galvin Library during finals? Take care of those worries when you enter the Galvin Library Finals Week Survival Pack Contest. To enter, send a tweet, comment on Galvin Library's Facebook page or  you can post your comment here on the Galvin Library blog. Tell us how you love Galvin Library and/or how you use the library during finals and you will be entered for a chance to win a Finals Week Survival Pack*
The Finals Week Survival Packs* have been assembled by Galvin Library, with additional items donated by other university offices on campus. The packs contain:
• Reusable water bottle
• T-shirt
• Reuseable shopping bags
• Coffee mug
• Book: IIT Architectural Tour by Frank Schulze
• Book: AUTOGRAPHED copy of The Sparrow by Dr. Mary Doria Russell
• Pens and Post-it notes
• IIT memo pad
• Luggage tag, IIT pins, and an IIT screen cleaner
• Energy drink
• Snacks, from breakfast to lunch and in-between
• Four lucky winners of the Finals Week Survival Packs* will be able to designate and reserve a guaranteed spot to study at Galvin Library.
*To win a Finals Week Survival Pack:
• You must comment on Facebook, twitter, or the Galvin Library blog to enter
• You must be an IIT student to win
• You can reserve any seat of your choosing in the library (study carrel, table, bean bag) just once
• Seat has to be reserved 24 hours before use
• Deadline to enter is midnight on Wednesday, November 26, 2014. Winners will be notified by Sunday, November 30.
Thanks to the following offices for their support and for their contributions to the Finals Week Survival Packs:
IIT Stuart School of Business
School of Applied Technology
University Tech Park
Institutional Advancement
Student Health and Wellness Center
Anonymous Donor – The Sparrow