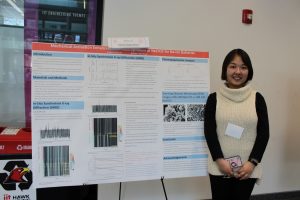 Mei Luo (MS ME '19) was recently selected as the first recipient of the Dr. Bhakta B. & Sushama Rath Endowed Research Award.
The Dr. Bhakta B. & Sushama Rath Endowed Research Award was established in 2017 by dedicated alumnus and award-winning materials science and engineering researcher, Bhakta B. Rath, PHD '63. This award is given annually to a graduate student who best presents an idea to a panel of faculty that "stands to significantly contribute to our knowledge in engineering and has the potential for significant societal impact on technology, particularly in the USA." Rath currently works as the associate director of research at the U.S. Naval Research Laboratory (NRL) and carries out projects that promote national security. 
The selection process was based on a merit and competitive basis. Among the nominees, Luo surfaced as the best candidate and was selected based on her performance as a researcher and promise for continued success. She has demonstrated the highest quality and productivity in her research work.
Luo is currently a senior Masters student on a research track toward pursuing a Ph.D. degree. Her field of study is mechanical engineering with a focus on batteries. Alongside her mentor, Leon Shaw, professor of materials engineering, Rowe Family Endowed Chair Professor in Sustainable Energy, Luo's research project involves mechanical activation enhanced solid-state reaction and electrochemical properties of NaCrO2 for Na-ion batteries. Luo was considered the most meritorious student among those nominated in this academic year to receive the award.