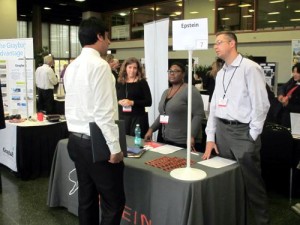 IIT and the Electric Association (EA) held their first joint career fair on October 28,2014 with 24 EA member companies and more than 100 IIT students hoping to make career connections. The students came from several IIT programs including industrial technology and management, civil engineering, electrical engineering, and business. Most have been preparing for careers in electrical design and project management, sales and operations, supply chain/logistics, construction and facilities management, and various types of engineering. The companies ranged from manufacturer's representatives to distributors, to electrical contractors seeking new hires and interns.
This targeted career fair was a partnership between EA, IIT's Career Management Center, and several IIT departments. After working with IIT faculty and students on many Interprofessional Projects (IPROs) involving energy audits, EA and IIT began collaborating to offer the opportunity for EA member companies to learn more about IIT and meet students with specific qualifications and training for careers requiring understanding of electric and electronic controls, and environmental sustainability. IIT faculty and staff had similar goals around helping their students learn more about careers in these industries and finding specialized jobs.
Some of the companies were represented by IIT alumni. Other EA member companies had no prior experience with IIT. Overall, the companies were impressed with the students. Company representatives and students commented that the event was an extremely helpful way to begin to develop mutually beneficial professional relationships.