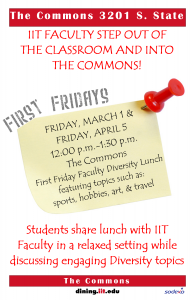 Mark your calendars for two upcoming First Friday Faculty Diversity Lunches, to be held in the Commons Cafeteria (3rd pod area identified with colored tablecloths) on Friday, March 1 and Friday, April 5 from noon–1:30 pm.
Students are welcome to dine with faculty! This program was designed by the Student Center for Diversity and Inclusion in partnership with Sodexo to encourage casual conversation between faculty members and students. Topics can include, but are not limited to sports, hobbies, art, culture, history, communities, neighborhoods, countries, music or travel.
Please contact Lisa Montgomery at lisa.montgomery@iit.edu for more information.
---
This event reflects the values expressed in IIT's Diversity Statement and is intended to promote diversity at IIT.