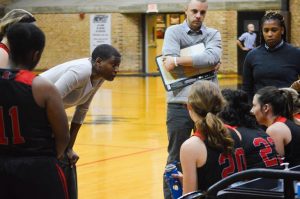 The Illinois Tech Women's Basketball team played its second game in as many days on January 26, opposing the Blue Angels of Mount Mary University in Milwaukee. A dominant start for the Blue Angels doomed the Scarlet Hawks, as Illinois Tech fell 77-50.
How it Happened
Mount Mary impressed early on, shooting 71.4% in the first quarter and nailing three three-pointers to take a commanding 18-point lead after 10 minutes.
Illinois Tech's offense slumped throughout the first half, as the Scarlet Hawks managed just 16 points and trailed by 29 at the intermission.
The third quarter was Illinois Tech's best. Raiven Johnson propelled the Scarlet Hawks to 20 points with eight of her own and a perfect 3-for-3 shooting performance. Illinois Tech outscored the Angels 20-7 in the quarter.
Johnson netted two more and Shannon O'Donnell added seven as Illinois Tech scored 14 more in the fourth, but Mount Mary scored 25 and shot 50% in the quarter to build the lead back up before the final buzzer.
Scarlet Hawk Standouts
O'Donnell scored 21 points on eight-of-15 shooting while also chipping in six rebounds and five assists.
Johnson had 10 bench points.
Madison Davis had nine points on three three-pointers.
Erin Nelson led Illinois Tech with 10 rebounds.
Stats to Know
The Scarlet Hawks out rebounded the Angels 43-36.
On the offensive glass, the Scarlet Hawks recorded an impressive 20 rebounds.
Mount Mary shot 46.7% compared to Illinois Tech's 28.8%.
Up Next
The Scarlet Hawks take the court next on Wednesday, January 31 at St. Mary's University, with tip-off taking place at 7:30 p.m.