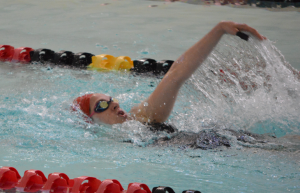 For the second season in a row, the Illinois Tech Women's Swimming and Diving team captured first place at the Ted Erikson Invite. Illinois Tech beat out four teams to win the second annual event at Keating Sports Center's Ekco Pool.
Scores
Illinois Tech 276.5
North Central 128
Lincoln 118.5
Beloit 56 / Manchester 56
Meet Highlights
Jasmine Duke took home first place in both the 500 Yard Freestyle (5:37.74) and 50 Yard Freestyle (25.88s). She also won the 200 Yard Individual Medley race (2:21.31).
Briana Tyler stood out in the 200 Yard Butterfly, placing first at 2:22.90. She also won the 100 Yard Butterfly with a 1:04.48 time.
The 200 Yard Medley Relay team of Kristin Wills, Brigitte Temple, Tyler, and Katy Lydon placed first with a time of 1:57.12. Also, the 200 Yard Freestyle Relay team of Lydon, Haley Slator, Jamie Wurster, and Duke won with a time of 1:46.23.
In the 100 Yard Breaststroke, Temple took home first place with a time of 1:12.24. She also won the 200 Yard Breaststroke (2:35.59).
Lydon captured yet another 1000 Yard Freestyle victory by a wide margin with a time of 11:01.17.
Paige Mass (292.60), Christian Jones (260.25), and Elly Shin (231.91) were strong in both 1 Meter Diving portions.
Up Next
Illinois Tech's next scheduled meet will take place on Saturday, January 14 at Lawrence University (1 p.m.).