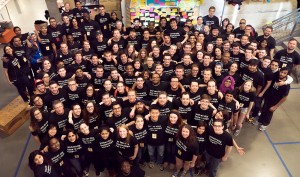 A select group of five Illinois Institute of Technology (IIT) students have recently graduated from the University Innovation Fellows (UIF) program. This IIT UIF Leadership Circle is now part of a national community of students in engineering and related fields who work to ensure that their peers gain the knowledge, skills and attitudes required to compete in the economy of the future. Faizan Ahmad ME, (CE 3rd year), Gabriel Conners (SEDP, 2nd year), Syeda Fatima (BME, 3rd year), Bartholomew Grabowski (BADM, 3rd year), and Callie Joncas (AE,1st year) join a cohort of 123 students from 52 schools across the country.
Through an internal multi-disciplinary solicitation, a large number of students across the University expressed interest. Over 60 applicants from Armour College of Engineering alone were considered for this unique opportunity. Of these applicants, five were specifically chosen by the IIT Entrepreneurship Academy (EA) Council to represent IIT. Sponsored by the EA Council, the students underwent six weeks of online training in January and traveled to the University Innovation Fellows Annual Meetup in Silicon Valley.
The UIF Leadership Circle is empowered to engage with entrepreneurship, innovation, creativity, design thinking and venture creation through assistance from their IIT sponsors: Francisco Ruiz, associate professor of mechanical and aerospace engineering and Raja Krishnan, intellectual property manager. The IIT UIF Leadership Circle is now charged to come back to campus and advocate for lasting institutional change.
The original press release can be found here.