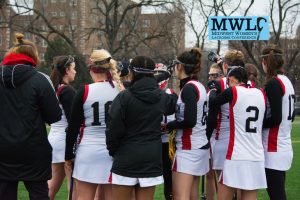 On May 4, the Midwest Women's Lacrosse Conference MWLC announced honors for five members of Illinois Tech's Women's Lacrosse team: Alyssa DeLuca, Shanie Scoles, Jennifer Young, Madison Meredith, and Mallory Tognetti.
For the third season in a row, DeLuca took home MWLC First Team honors=. The junior attacker and last season's Co-Attacker of the Year in the league once again ranked near the top of the conference in goals scored; holding the fifth position on the leaderboard with 47. The Massachusetts native was also 10th in the league in shots (97), 13th in points (50), 18th in both ground balls (45) and draw controls (44), and 19th in both shots on goal (64) and shooting percentage (48.5%). The Scarlet Hawks' success hinged in large part on DeLuca's production, as the team co-captain averaged 4.5 goals per game in Illinois Tech's wins compared to 1.6 per game in the team's defeats. DeLuca's numbers this season boosted her career goal tally to 174, the most in school history.
Just a freshman, Scoles quickly became one of the league's best players in 2018, earning the MWLC Freshman of the Year award and All-MWLC Second Team honors as a midfielder. The California native ranked in the MWLC's top ten in five different statistical categories: assists (13, sixth), draw controls (77, seventh), points (55, eighth), shots on goal (77, eighth), and goals (42, 10th). She scored in 13 of the 15 contests she played in and had a perfect shot on goal percentage in six different matches.
Young earned Second Team All-MWLC honors as a defender. This season Young spent time on defense, in goal, and as a midfielder. She received all-conference recognition for the third straight year (First Team in 2017, Second Team in 2016) after setting career-highs in goals (15), assists (six), points (21), ground balls (50), caused turnovers (27), shooting percentage (50%), shots (30), shots on goal (23), and shot on goal percentage (76.7%). As a goalkeeper, Young made an impressive 15 saves on March 27 at MWLC powerhouse Concordia-Wisconsin and led the Scarlet Hawks to victory in a 13-3 win over Benedictine on March 31.
Meredith earned Second Team honors after two straight years of First Team awards and the Midfielder of the Year title last season. The Texas native proved to be a great facilitator once again, leading the Scarlet Hawks with 20 assists (third in the conference). She also scored 15 goals to boost her points total to 35, while also scooping up 23 ground balls and 25 draw controls.
Following up an All-MWLC Honorable Mention performance last season, Tognetti earned a spot on the MWLC's All-Sportsmanship team in 2018. The emerging leader tallied six assists on the season while causing 12 turnovers and picking up 30 ground balls in 11 games played.
The Scarlet Hawks finished the 2018 season with an 8-7 overall record and a 7-4 MWLC mark, tying with Aurora University for fourth place in the conference. The first year of the Meghan Brady era ended on a four-match winning streak, securing a top four finish in the MWLC standings for the fourth time in four seasons in the league.