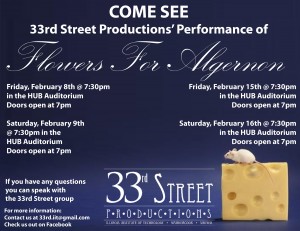 Come see 33rd Street Productions performance of Flowers for Algernon!
Performance Dates
Friday, February 8, 7:30pm
Saturday, February 9, 7:30pm
Friday, February 15, 7:30pm
Saturday, February 16, 7:30pm
Doors open half an hour before each show time.  All shows located in the Herman Hall (HUB) Auditorium at 3241 S. Federal.
Admission is free and open to the public!  Contact 33rd.iit@gmail.com with any questions.