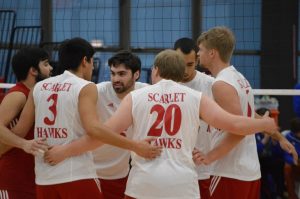 The Illinois Tech Men's Volleyball team traveled to Fontbonne University on February 10. Illinois Tech was defeated 3-1.
Scores
Griffins 3, Scarlet Hawks 1 (25-22, 12-25, 18-25, 17-25).
How it Happened
The first set of the match was the strongest for Illinois Tech, as the Scarlet Hawks overcame an early 7-3 deficit to win the set. Illinois Tech closed out the set on a 4-0 run and clinched the match on a David Allen kill.
The Griffins never trailed in set two and closed things out on a 12-4 run.
After a back-and-forth early portion of set three, a 5-1 run for the Griffins put the hosts up 20-13, clearing the path to a 2-1 match lead.
The Scarlet Hawks hit at .355% in the third set. Fontbonne, however, hit .455% en route to earning the victory.
Scarlet Hawk Standouts
Lukasz Kupiec had another double-double with 13 kills (.379%) and 13 assists. He also had eight digs and three blocks (two assisted, one solo).
Allen narrowly missed a double-double with nine kills and 11 digs.
Andrew Woltman led Illinois Tech with 18 assists.
Derek Bostick led Illinois Tech with 19 digs.
Evan Robeck and Kyle Bumpass each tallied four blocks (three assisted, one solo).
Stats to Know
The Scarlet Hawks outdug the Griffins 55-50.
Fontbonne had 15 assisted blocks while Illinois Tech tallied four solo and 12 assisted blocks.
Fontbonne outhit Illinois Tech .197% to .088%.