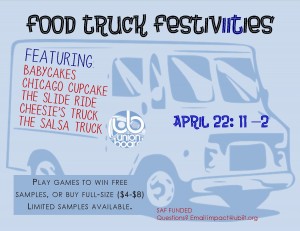 Five food trucks will be on the Main Campus from 11 am-2 pm on Tuesday, April 22, 2014 parked between McCormick Student Village and the McCormick Tribune Campus Center:
Babycakes
Chicago Cupcake Truck
The Slide Ride
The Southern Mac n Cheese Truck
The Salsa Truck
There is also a chance to win free samples. Play a carnival game for the chance to win a sample at a truck of your choice. One free sample per game, limit of two samples per person. A limited supply of free samples available.
Most desserts and entrees on the trucks will cost between $4 and $8.
Email impact@ubiit.org or katie@hawk.iit.edu for more information.