More than 220 cyber security professionals participated in ForenSecure '15: Cyber Forensics and Security Conference and Expo at Illinois Institute of Technology's Rice Campus in Wheaton, Ill. In its 13th year, this industry-focused technical conference attracted representatives from Google, the Federal Bureau of Investigation (FBI), Exelon, Cisco, Verizon, Comcast, Allstate Insurance, Argonne National Laboratory, Booz Allen Hamilton, CDW, Chicago Public Schools, CNA Insurance, Fermilab, Ford Motor Company, Motorola Solutions, Navistar, U.S. Marines, and Alcatel-Lucent. Universities such as Boston University, University of Chicago, University of Illinois at Chicago, Loyola University, Lewis University, Northern Illinois University, Wheaton College, University of Wisconsin, University of Dubuque (Iowa), several community colleges, and other organizations were also represented.
This multi-tracked conference included discussion and debate by local, regional, national, and international organizations and universities over cyber security, forensics, data/information governance, cyber crime, cyber security legislation and legal issues, ethical hacking, eDiscovery, cloud forensics, steganography, policy and compliance, privacy, wireless security, cloud computing, credit card fraud, drones, identity theft, and more.
Keynote speaker, Lt. Col. William Hagestad, a global information security intelligence researcher at Red Dragon Rising, University of Minnesota, addressed the motivations of cyber-enabled nation states—including China, Iran and Russia—and the impact on our digital information world.
Additionally, Google Program Manager, Tresa Johnson-Agarwal (ITM '06), presented a keynote on how Google goes above and beyond to be sure users' information is safe and secure.
Bill Lidinsky, director, School of Applied Technology Computer Security and Forensics Laboratory; interim director, Center for Cyber Security and Forensics Education; and industry professor of Information Technology and Management headed up the conference with co-chairs, Ben Khodja (ITM '12, M.S. CYF '15) and Yalinne Castelan Guzman (ITM, M.S. CYF '16).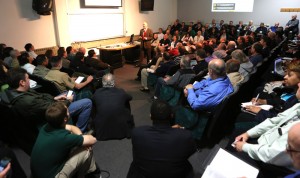 Several Illinois Institute of Technology faculty presented at conference sessions including Mohammad Shahidehpour, Bodine Chair professor of electrical and computer engineering, Henry Perritt Jr, professor of law, Ray Trygstad, director of information technology at IIT School of Applied Technology, and Adam Rouse, legal fellow for the Institute of Science, Law, and Technology at IIT Chicago-Kent College of Law. Bonnie Goins and William Slater III, adjunct industry professors of information technology and management also presented.
Student presentations from Lidinsky's ITMS 448/548-Cyber Security Technologies, ITMS 539-Steganography, and ITMS 549-Cyber Security Technologies: Projects & Advanced Methods courses were featured both days. Presentations included various forms of steganography, how to defend Android apps, RADISH (Remotely-Accessible Dynamic Infrastructure for Students to Hack) developed at Illinois Tech, and more.
More information about ForenSecure: Cyber Forensics & Security Conference & Expo can be found here.
More Information about Cyber Forensics and Security Lab at Illinois Institute of Technology School of Applied Technology can be found here.