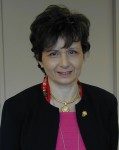 Frederica Darema (M.S. PHYS '72), director of the Mathematics, Information and Life Sciences Directorate of the Air Force Office of Scientific Research (AFOSR) has been appointed as director of the AFOSR, effective Sunday, December 11.
Darema started her career at University of Pittsburgh as a research associate in the physics department. Her work on theoretical modeling led her to jobs at Brookhaven National Laboratory, Schumberger-Doll Research Center, IBM, the National Science Foundation, and more recently as director of mathematics, information and life sciences at the Air Force Office of Scientific Research in Arlington, Virginia. In her career Darema has made many scientific contributions. As part of her innovative work at IBM, in 1984 she introduced the Single Program Multiple Data (SPMD) model, which has become the predominant way to organize parallel computer programs for scientific and other applications executing on multiprocessors.
"I'm very honored to be promoted to this position, and I look forward to leading AFOSR in fulfilling our mission of fostering excellence in science and technology and transformative capabilities for the Air Force," said Darema.
You can read more about Darema in the spring 2014 issue of IIT Magazine here.