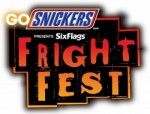 Treat your family to some Halloween fun at Six Flags Great America's Fright Fest! Discount tickets are now available for $29 for the following dates:
Thursday, October 25
Friday, October 26
Saturday, October 27
Sunday, October 28
Each ticket can be used one time for any of the dates. Guests two years of age and younger are admitted free. For tickets or more information, contact
goodloe@iit.edu
or 7-3541.