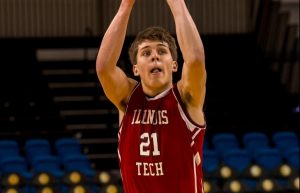 Last week, the Illinois Tech Men's Basketball team was selected to participate in the United States Collegiate Athletic Association (USCAA) National Championships for the first time in school history, qualifying as the eight-team tournament's fourth-seed. The Scarlet Hawks will head to Uniontown, Pennsylvania, for the tournament, which will take place from Wednesday, March 1 through Saturday, March 4.
Below is information on all aspects on the week's events.
Full Scarlet Hawk Schedule (a PDF of the full tournament schedule and bracket can be found here)
The Scarlet Hawks will play on Wednesday, March 1 at 3 p.m. CT in Penn State-Fayette's Main Gym. A win would put the Scarlet Hawks in a winner's bracket contest on Thursday, March 2 at 7 p.m. CT in the Main Gym, while a loss put them in a consolation game on March 2 at 10:15 a.m. CT in the campus' Maltho Center. If the Scarlet Hawks win both the March 1 and March 2 contests, Illinois Tech will advance to the USCAA National Championship on March 4 at 11:30 a.m. CT in the Main Gym.
Live Stats and Streaming
The USCAA plans on providing live streaming and statistics for the tournament matches with live audio included.
Site Information, Tickets, and Parking
All tournament matches will be played on the campus of Penn State-Fayette, located at 2201 University Drive in Lemont Furnace, Pennsylvania, just two miles north of the city of Uniontown. Parking will be available free of charge. Admission costs are $10 per day for spectators (all of the day's games included). Week-long tournament passes will be available online for $25.00 and on-site for $30.00.
Additional Information and Questions
Additional information can be found in the USCAA's Basketball Information Packet. Contact Phillip Hines at phillip.hines@theuscaa.com with any other tournament-related questions.