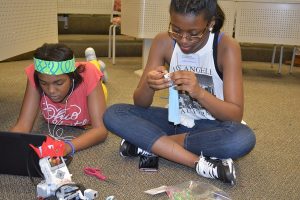 A total of 51 girls attended this year's Middle-School Discovery Camp for Girls, held July 10-20 on campus and led by Vida Winans, senior instructor of computer science.
Now in its eighth year, the camp is designed to help underrepresented populations explore programming in a supportive environment and potentially get on the path to a technology career.
Studies show boys and girls use computers equally, but boys are more proficient in computing and programming concepts when they start college.
Additionally, computer science has become less diverse than a generation ago. As of 2016, only 26 percent of technology professionals were women, five percent were Asian, three percent were African American, and two percent were Hispanic, according to the National Center for Women & Information Technology.
Illinois Tech's Middle-School Discovery Camp for Girls connects computers to the girls' interests, teaches them problem solving, allows them to interact with role models – Illinois Tech students and alumni who help out with the camp – and gives them a chance to meet and work with other like-minded girls.
Winans offers a new curriculum for each camp. This year's theme was "Dancing Queen." The girls used LEGO Mindstorms, which are robot kits for kids, and learned to program them to "dance" through a graphical interface. They also learned how to create e-textiles to "customize" their robots and make personal wearable e-textiles.
The camp was started with 20 students in 2010 by Cindy Hood, associate professor of computer science, and Winans and was originally funded with a National Science Foundation grant for broadening participation in computing. Today, it is sponsored by the Department of Computer Science, College of Science, alumni, and other private donors.
You can read more about the camp here.