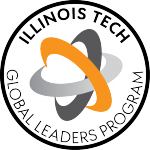 Chicago-area professionals are invited to serve as judges and welcome to attend as guests at the Global Leaders Program Inaugural Community Innovation Projects Presentation Day on Sunday, April 30 from 1:45–3:30 p.m in Hermann Hall (3241 S. Federal Street).
About the Projects:
Teams of junior year scholars work over the course of a year to apply their creativity to a complex social issue in their community that is important to them. Guided by adult professional and undergraduate project mentors, Community Innovation (CI) project teams conduct in-depth research on their issue and work together to design and implement a solution that meets the needs of stakeholders. You can learn more about this year's projects here.
About Volunteering:
At our CI Project Presentation Day, seven Community Innovation Project teams will showcase their accomplishments. Volunteer judges speak with three to four teams and assess their project's design and potential impact. You can register to volunteer as a judge by completing a short registration form here.
Please contact Desmend Jetton, STEM access specialist, at djetton@iit.edu with any questions about serving as a judge.