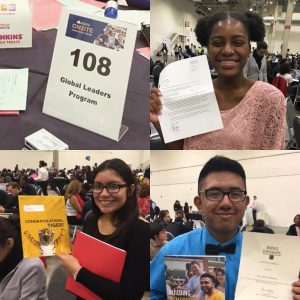 On October 24, Global Leaders Program (GLP) scholars participated in the Chicago Scholars Onsite Admissions Forum. This annual event, hosted by the Chicago Scholars Foundation, brought together more than 1,000 high school seniors from Chicago and 179 colleges and universities. GLP scholars completed more than 225 college applications before October 1, and received on-the-spot offers of admission – along with more than $2 million in merit scholarship awards – during the event. In all, GLP scholars attended 200+ college interviews and received acceptances at 22 different colleges across the United States.
Six scholars received admission offers from Illinois Tech, five were offered the Henry Heald Scholarship for the merit of their academic record, and four have been invited to participate in Scholarship Weekend. This culminates two years of building relationships, developing as leaders, and exploring STEM on Illinois Tech's campus.
Scholars prepared for Onsite by participating in the annual Illinois Tech Mock Interview workshop on October 22. Several adult professionals, including Chicago Public Schools (CPS) educators and Illinois Tech faculty and staff, helped scholars practice their elevator pitches and hone their interviewing skills. We are grateful for our continued partnership with Chicago Public Schools (CPS) and the support from the larger Illinois Tech community.
We are so proud of our dedicated and inspiring scholars for all of their hard work in preparing for Onsite, and look forward to sharing with you later this year where they decide to enroll in the fall of 2018.
——————-
The Illinois Tech Global Leaders Program (GLP) is a free, two-year academic enrichment program that inspires Chicago-area high school students to lead and serve, to explore STEM, and to pursue higher education.  
Interested in volunteering? Contact Charlie Lindquist, college access manager, at clindqui@iit.edu.