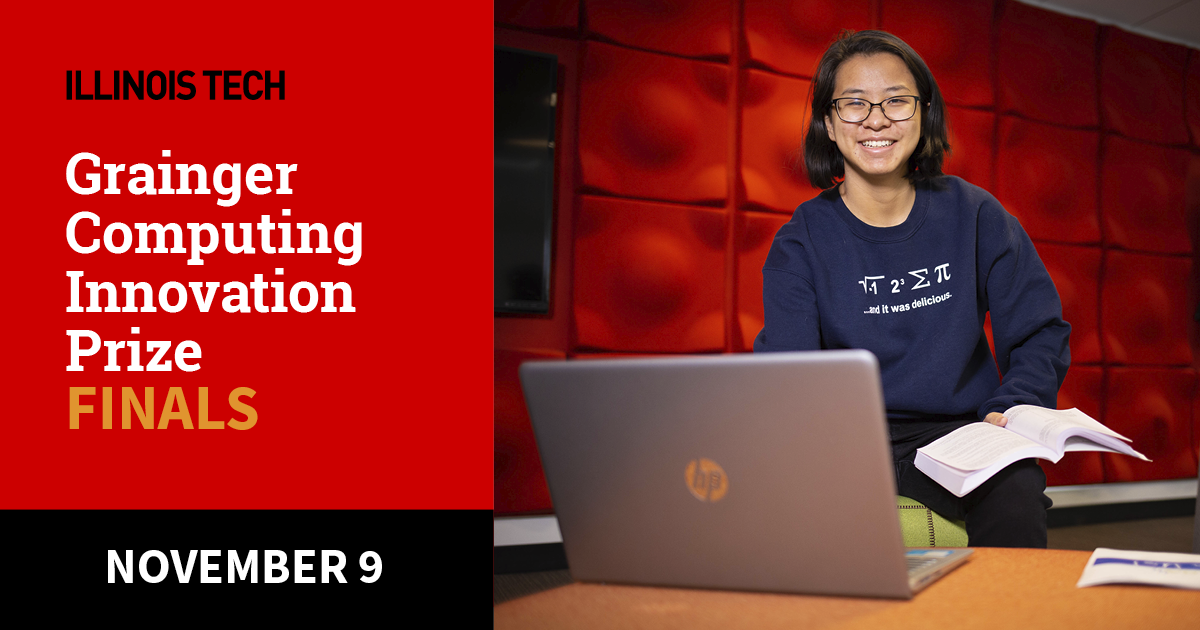 On Wednesday, November 9, the College of Computing will showcase the best of Illinois Tech in the finals of the second annual Grainger Computing Innovation Prize. The finalist teams of undergraduate and graduate students will present their projects to a jury of Chicago's tech leaders. Come support the finalists and share in the excitement as we crown our Grainger Computing Innovation Prize champion!
Sign up to attend the Grainger Computing Innovation Prize finals and reception:
Wednesday, November 9, from 2:30–6:15 p.m.
Finalist presentations:  2:30–4:20 p.m.
Reception and awards ceremony:  4:20–6:15 p.m.
MTCC Auditorium and Ballroom
Watch the five teams of finalists pitch their prototypes to a panel of esteemed judges from 2:30–4:00 p.m in The McCormick Tribune Campus Center Auditorium, then mingle at the reception and attend the awards presentation beginning at  4:00 p.m. in the MTCC Ballroom. Food and non-alcoholic beverages will be provided.
We have a truly exciting range of projects among the five finalists, including: 
A Data-Driven Solution to Addressing Food Insecurity—This project enables restaurants to report their end-of-day unsaleable food so that Chicago's food insecure population can access it

Coh-Op—A tool for classifying the efficacy and safety of opioids

StarPay—A massively scalable short messaging service-based payments settlement network for Mexico's unbanked population

GreenGrid—A blockchain-powered microgrid with an efficient use of renewable power

Garden PI—An automated soilless hydroponic feeding and automated lighting system that makes a perfect growing environment for plants
About the Grainger Computing Innovation Prize
The Grainger Computing Innovation Prize calls on Illinois Tech students to develop creative technology solutions to some of the most challenging problems facing the world today: health disparities, climate change, and the need for sustainable, smart infrastructure. 
Finalists who tackle these challenging problems best win a share of $30,000 in prizes:
First-place team: $15,000 

Second-place team: $10,000 

Third-place team: $5,000 
The Grainger Computing Innovation Prize was established through a generous endowed gift from The Grainger Foundation, an independent, private foundation based in Lake Forest, Illinois, that provides substantive support to a broad range of organizations, including educational, medical, cultural, and human services institutions.
If you have any questions about the Grainger Computing Innovation Prize competition, please contact graingerprize@iit.edu.