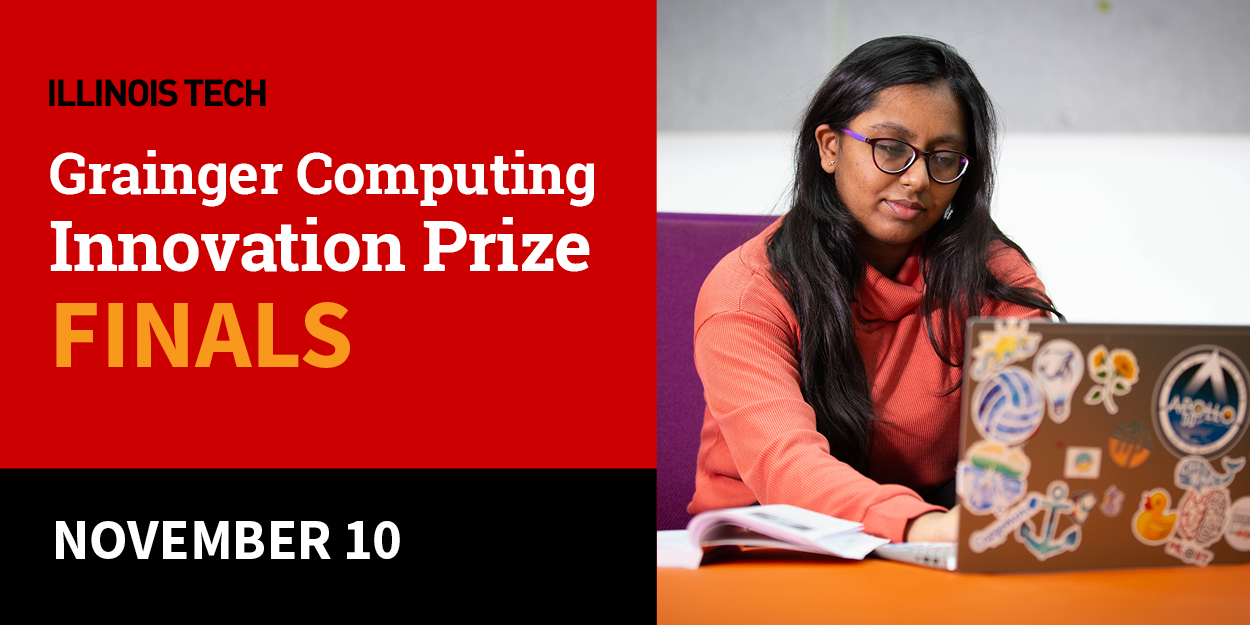 Sign up to attend the Grainger Computing Innovation Prize finals and reception:
Nov 10, 2021 4:00-7:15 p.m.
Presentations and Jury 4:00 p.m. – 6:30 p.m.
Award Ceremony begins at 6:30 p.m.
MTCC Auditorium and Ballroom
Support the 5 teams of finalists and watch their prototype pitches to a panel of esteemed judges from 4–6:30 p.m in the MTCC Auditorium, then mingle and watch the awards presentation from 6:30 p.m. in the MTCC Ballroom. Appetizers and drinks will be provided.
Sign up to attend the event using this link.
Face coverings will be required. Even if you are fully vaccinated, all students, staff, faculty, and guests must wear a face covering indoors. The university will review and revise the mask protocol as appropriate given changes to state and city public health guidelines.
About the Grainger Computing Innovation Prize
The inaugural Grainger Computing Innovation Prize calls on Illinois Tech students to develop creative technology solutions to some of the most challenging problems facing the world today: health disparities, climate change, and the need for sustainable, smart infrastructure. 
Finalist tackled these challenging problems to win their share of a total of $30,000 in prizes:
1st Place Team: $15,000 

2nd Place Team: $10,000 

3rd Place Team: $5,000 
The Grainger Computing Innovation Prize was established through a generous endowed gift from The Grainger Foundation, an independent, private foundation based in Lake Forest, Illinois, that provides substantive support to a broad range of organizations, including educational, medical, cultural, and human services institutions.
Competition Updates
If you have any questions about the Grainger Computing Innovation Prize competition please contact graingerprize@iit.edu.