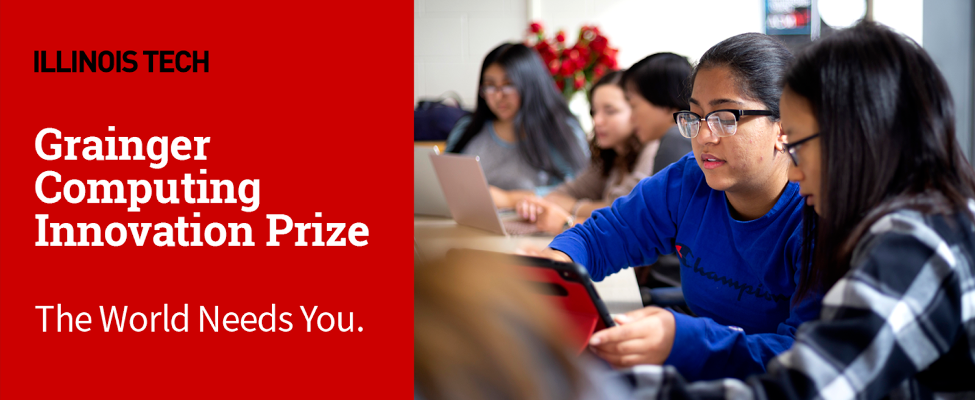 Join us for an information session for the Grainger Computing Innovation Prize, the College of Computing's annual competition for innovating to solve global challenges. The event and competition are open to all Illinois Tech undergraduate and graduate students. Advance registration is required; sign up to attend the event here.
When: Wednesday, August 30, 12:45 p.m.–1:45 p.m.
Where: Hermann Hall Expo (North End)
There will be an opportunity to ask questions, mingle with other students and mentors, and form teams for the competition. Lunch will be provided.
About the Grainger Computing Innovation Prize
The Grainger Computing Innovation Prize calls on Illinois Tech students to use computing, data science, and artificial intelligence for social good to develop creative technology solutions to some of the most challenging problems facing the world today: health disparities, climate change, and the need for sustainable, smart infrastructure. The competition will take place over the fall semester.
Interdisciplinary solutions and creative thinking are welcomed and encouraged.
Illinois Tech bachelor's and master's students in all disciplines are eligible, but entries must involve an element of computing.
Tackle these challenging problems to win your share of a total of $30,000 in prizes:
First Place Team: $15,000
Second Place Team: $10,000
Third Place Team: $5,000
The Grainger Computing Innovation Prize was established through a generous endowed gift from The Grainger Foundation, an independent, private foundation based in Lake Forest, Illinois, that provides substantive support to a broad range of organizations, including educational, medical, cultural, and human services institutions.
Registration Is Open
Registration is now open for teams of two to five Illinois Tech students. Individuals who may need help forming or joining a team can join the Google Group to find other students interested in competing via the registration page.
Competition Updates
Visit iit.edu/graingerprize for more information.
If you have any questions about the Grainger Computing Innovation Prize competition, please contact graingerprize@iit.edu.