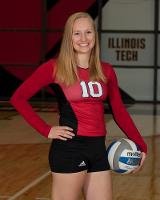 For her performance in this past weekend's Scarlet Hawk Invite, Irena Grauzinis was named the Association of Division III Independents Player of the Week for Women's Volleyball for action between September 26 and October 2.
The senior was named to the All-Tournament team, compiling 71 kills and 47 digs as the Scarlet Hawks went 2-2 over the two days. Grauzinis recorded three double-doubles on the week, highlighted by a 23-kill, 12-dig performance in Illinois Tech's win over Eureka on October 1. The outside hitter finished with double-digit kills in all four matches and concluded the week with 4.73 kills per set and 3.13 digs per set. Grauzinis now ranks second in the AD3I with 216 kills and 3.38 kills per set on the year.
Illinois Tech travels to St. Mary of the Woods this weekend for another two-day, four-match tournament. Illinois Tech will oppose St. Mary of the Woods on Friday, September 7 at 2 p.m. to start the weekend's action.