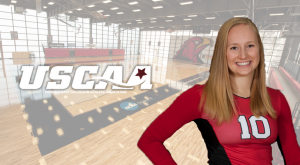 The United States Collegiate Athletic Association (USCAA) has named senior captain of the Illinois Tech Women's Volleyball team and outside hitter Irena Grauzinis First Team All-American.
After a USCAA Honorable Mention last season, Grauzinis has built off that momentum to have one of the strongest seasons a student-athlete has had at Illinois Tech. The senior has tallied 479 kills on the season, which leads the USCAA and is the second most in school history, 46 less than the school record. She has also tallied 52 aces (24th in the USCAA), 335 digs (37th in the USCAA), 29 total blocks, and a .102 hitting percentage. Her 1,739 attempts leads the USCAA. In addition, Grauzinis's 3.89 kills/set also ranks towards the top of the USCAA leaderboard, tying for fifth place as of the November 8 announcement.
Grauzinis has played every set (123) of every match (34) this season, one of six Scarlet Hawks to do so. She's tallied double-digit kills in 25 matches and over 20 kills in seven matches. The St. Charles, Illinois native has also tallied double-digit digs 15 times and has 12 matches with over 10 kills and 10 digs. Her season-high in kills is 25, a number that she reached twice in two matches on October 15 against St. Louis College of Pharmacy and Robert Morris University Springfield. At Beloit College on September 3, she reached her season-high in digs of 29. She also tallied a season-high five aces against Great Lakes Christian on October.
The First Team All-American honor comes near the end of an incredible Scarlet Hawk career for Grauzinis. As of the award's announcement, she ranks third all-time in Illinois Tech history with 993 kills, just 26 away from the second rank. She also ranks fourth all-time in digs (988) and sixth all-time in aces. She was also honored on November 10 with a USCAA All-Academic honor for the second year in a row.
Grauzinis and the rest of the Scarlet Hawks return to the court in Virginia Beach, Virginia on Friday, November 11. The Scarlet Hawks will play two more matches in pool play, taking on #3 Alfred State College at 9 a.m. before opposing #7 Carlow University at noon. If the Scarlet Hawks are one of the top four teams in Pool B, Illinois Tech will play a five-set quarterfinal match at either 3 p.m. or 4:30 p.m. Live stats and video links courtesy of the USCAA are scheduled to be available.