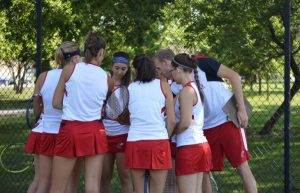 The Illinois Tech Women's Tennis team has received national recognition. Last week, the Intercollegiate Tennis Association and Oracle revealed its Division III Central Regional Rankings. Both Weronika Halicka and Morgan Colbert are listed.
Individually, Halicka is ranked seventh in the region. The ranking comes on the heels of an impressive showing at the ITA Regionals in late September, where she reached the "A" draw quarterfinals before falling to the region's third-ranked player (Ashley Lessen of WashU). The loss to Lessen was her only singles defeat this fall, as she was 12-1 overall while playing as Illinois Tech's top singles player.
As a doubles pairing, Halicka and Colbert hold the eighth regional ranking. Playing as Illinois Tech's top doubles pair all season, the two won the backdraw championship at the ITA Regionals in September. The pair finished 13-2 overall this fall.
The Scarlet Hawks finished with a 7-5 overall record this fall. The 2017–18 schedule re-opens in March with the start of the spring season.