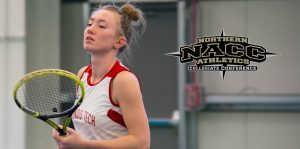 Weronika Halicka was named the Northern Athletic Collegiate Conference Women's Tennis Student-Athlete of the Week for her performance during the team's first four matches.
Halicka went 3-0 in singles competition and 4-0 in doubles with teammate Morgan Colbert last week. The senior picked up wins at No. 1 singles against Thomas More's Nicole Capodagli in straight sets, 6-0, 6-2, as well as Millikin's Morgan Bettner, 6-0, 6-1, and Olivet Nazarene's Susana Martinez, 6-0, 6-3.
At No. 1 doubles, Halicka and Colbert won against Thomas More's Brooke Warden and Nicole Capodagli 6-1, Millikin's Bettner 8-1, Roosevelt's Gina Oshido and Kyla Eaton 8-1, and Olivet Nazarene's Susana Martinez and Dana Huck 8-3.
Halicka is the first Illinois Tech student-athlete to win a weekly award from the NACC. Illinois Tech returns to action on Saturday, September 8 against Wisconsin Lutheran and Concordia Wisconsin in a tri-match.