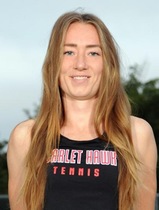 Weronika Halicka, a senior from Lodz, Poland, was named Northern Athletics Collegiate Conference Player of the Year by the coaches of the conference while Morgan Colbert and Kylie Hance were named to the All-NACC singles team. Colbert was also named to the All-NACC Doubles Team.
Erik Scanlan, women's tennis head coach, said Halicka's importance to this program cannot be overstated.
"From the commencement of the team Wera has been a leader, a teacher, and an anchor for our team," Scanlan said. "Her value on the court is trumped only by her value to the team in meetings, practices, and off-court team functions."
Halicka went 24-2 at singles and doubles competition this season for the Scarlet Hawks. She went a perfect 6-0 in the NACC and 9-0 while at the No. 1 singles spot and posted a 11-1 record overall.
She went 13-1 in doubles this season with her partner Colbert, including a perfect 10-0 in the No. 1 spot and 6-0 in the NACC.
Colbert went 13-2 in singles competition in the fall.
"Colbert is primed to step into a leadership role for next season. She brings an unparalleled level of professionalism that is infectious throughout the players and coaching staff," Scanlan said.
Hance was primary in the number three singles spot for the Scarlet Hawks as a freshman.
"We were so lucky to gain the commitment of Hance. She is a young talent that hasn't even begun to scratch the surface of her potential," Scanlan said. "Illinois Tech should be excited to see what she turns herself into on the court."
"The future is very bright for Illinois Tech. Weronika is leaving behind a legacy of hard work and success. As we continue to find our footing in the NACC I believe we will see better results both in the conference, and on the national scene," Scanlan said. "Several players on the roster are 'chomping at the bit' to get on the court, and their hard work at practice and in the classroom will get them there."