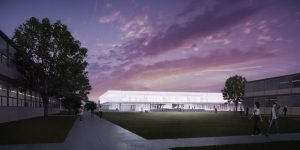 The FAQ section of the Ed Kaplan Family Institute for Innovation and Tech Entrepreneurship website has been updated. You can now find answers to questions like:
Q: What is the Kaplan Institute?
A: With a focus on innovative thinking and transitioning new ideas into products and processes, the Kaplan Institute will be the first new academic building built on Mies Campus in more than 40 years. The Kaplan Institute will house unique facilities and equipment for implementing novel, educational, and entrepreneurial strategies. It will feature workshops, media labs, classrooms, collaborative hubs, emerging technologies, and "maker spaces."
Q: Why is the Kaplan Institute being built?
A: The number two strategic priority at Illinois Tech is to promote innovative thinking and excellence throughout the university. Illinois Tech is dedicated to providing students an education that inspires technology innovation and entrepreneurship in the twenty-first century. Listening to students, alumni, faculty, and staff, Illinois Tech believes it is clear that achieving this goal requires dynamic spaces, a state-of-the-art approach to critical thinking, and the tools to apply creativity. The Kaplan Institute will provide a needed place at Illinois Tech and in Chicago where all of these arenas can intersect and incubate. The vision of the Kaplan Institute is to attract students who will learn to convert their creative ideas into significant, viable innovations. The institute will support them as they work to become the leaders, inventors, and entrepreneurs of the future. The mission of the institute is to nurture the advancement of critical and creative ideas, to foster interdisciplinary and external collaboration, and to create a culture that enables innovation and tech entrepreneurship to flourish.
For the full list of FAQs click here.