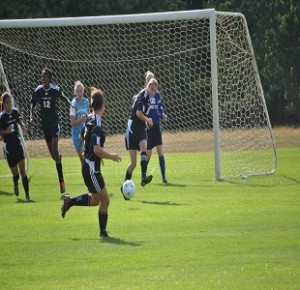 The Illinois Tech women's soccer team dropped a 4-1 road decision to St. Mary's on Monday. Senior Mariah Kuitse played in goal for the Hawks who were missing their starting goalkeeper along with a couple of other key players. Kuitse made 9 saves on the day.
Anida Phetchanpheng got things started off quickly for IIT with her first goal of the season just 7 minutes into the contest. After beating a couple of defenders, Phetchanpheng blasted a shot from 25 yards which sailed over the Belles goalkeeper for the 1-0 lead.
St. Mary's answered with goals in the 20th and 28th minute to take the 2-1 lead into halftime. They then closed it out with another two goals in the 2nd half.
Coach Ahmet Kose talked about the injuries that the Hawks are currently dealing with. "Despite our early season misfortunes, I am pleased with the way our team has fought until the final whistle of every game," said Kose. "With a depleted roster, it would be easy to put our heads down and give up but we continue to battle each day and are excited for our next opportunity to display our talent."
Illinois Tech falls to 0-3 on the season. They will look to bounce back this weekend as they head to Goshen College for the Maple Leaf Classic where they will play Rochester College on Friday at 5 p.m. (EDT) and Goshen on Saturday night at 7 p.m. (EDT). You can follow live stats for Friday's game by clicking here and you can watch the live video feed of their game on Saturday by clicking here.