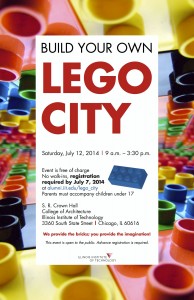 Illinois Tech is hosting the fifth annual Build a LEGO City event on Saturday, July 12, 2014 in S. R. Crown Hall on IIT Main Campus. Participants will be able to build structures and cities using thousands of LEGO bricks.
Session one is from 9 am – noon and session two is from 12:30 – 3:30 pm. This event is open to the public. Advance registration is required. RSVP by Monday, July 7, 2014.
For more information or to register visit the website. For questions or to volunteer, email Molly McCaughey at mmccaugh@iit.edu or call 312.567.5219.
View photos here from previous events.
This event reflects the values expressed in IIT's Diversity Statement and is intended to promote diversity at IIT.