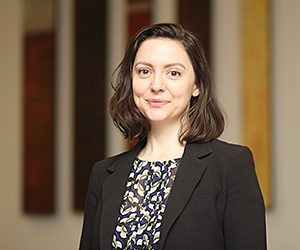 Holly Pope '16 is the recipient of the 2016 Sandra P. Zemm Labor Law Prize. The prize was established in 2009 at Chicago-Kent College of Law at Illinois Tech by the law firm of Seyfarth Shaw LLP to honor the memory of Sandra P. Zemm, who died in September 2008 after a lengthy battle with cancer. Zemm Prize winners receive $1,000 along with the award.
An active member of the Chicago-Kent community, Pope will graduate in May with a J.D. degree and certificates in labor and employment law and in public interest law. In 2012, she earned her bachelor's degree, magna cum laude, in social sciences from the University of Washington in Seattle.
This spring, Pope is working as an extern at the Equal Employment Opportunity Commission's Alternative Dispute Resolution Unit in Chicago. Previously, she was a Coles Fellow with the Illinois Human Rights Commission and a legal intern for the Chicago Lawyers' Committee for Civil Rights Under Law Inc.
Pope co-chaired the Kent Justice Foundation's 2015 spring auction and worked in the Plaintiffs Employment Law Clinic in the Law Office of Chicago-Kent. Her nominator writes that Pope "seeks out people from all walks of life and shows them genuine kindness and compassion."
"Holly Pope embodies the qualities described when people talk about Sandra Zemm," says Mary Rose Strubbe, assistant director of Chicago-Kent's Institute for Law and the Workplace. "Holly is intelligent and thoughtful, but so are many law students. It is Holly's commitment to justice and to excellence, coupled with her generosity and genuine care for every person she encounters, that make her such a fitting recipient for this year's Zemm Prize."
The Sandra P. Zemm Labor Law Prize is awarded annually to a third-year Chicago-Kent student in the Labor and Employment Law Certificate Program who exemplifies the qualities that Zemm possessed: "a commitment to pursue a career in labor and employment law, a pioneer spirit and willingness to take the initiative whenever possible, and a gracious and generous attitude toward helping those in need," according to Seyfarth Shaw. Recipients are selected by Chicago-Kent faculty who teach in the law school's Program in Labor and Employment Law.
A Chicago native, Sandra P. Zemm earned her undergraduate degree from the University of Illinois. She received her J.D. from Florida State University, where she served as managing editor of the law review.
She joined Seyfarth Shaw in 1975 as the first female associate in the Labor and Employment Practice. In 1982, she became the firm's first female equity partner in Labor and Employment. Her practice concentrated on traditional labor matters, and on matters involving employment discrimination, wage-hour, and employment litigation. She negotiated collective bargaining and/or shutdown agreements with major labor unions, and represented management in more than 200 hearings before arbitrators, the National Labor Relations Board and various state labor agencies. In 2002, Zemm was elected to the American College of Labor and Employment Lawyers.
"Sandy was beloved by her colleagues and clients and respected by her opponents. She was a no-nonsense labor lawyer and an elegant, sophisticated woman at the same time. Her ability to stand up to the toughest adversaries while always carrying herself with style and grace inspired many of us who came to the firm after her," said Allegra R. Nethery, Pro Bono and Philanthropy Partner at Seyfarth Shaw. "This award is our way of keeping her in our thoughts and honoring her legacy."
Seyfarth Shaw has more than 850 attorneys located throughout the United States, as well as internationally in London, Shanghai, Melbourne and Sydney. Seyfarth Shaw provides a broad range of legal services in the areas of labor and employment, employee benefits, litigation, corporate, and real estate.