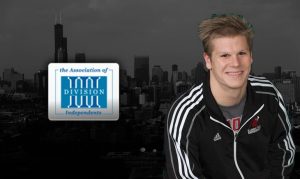 Just days prior to competing at the Liberal Arts Championships, Illinois Tech Men's Swimming and Diving's Brendan Howley has been recognized as the Association of Division III Independents Student-Athlete of the Month for the second time.
The Glen Ellyn, Illinois, native wins the honor for January after three strong meets. To begin the month, he won both the 50 Yard Freestyle (22.01s) and 100 Yard Breaststroke (58.55s) events in a dual meet at Lawrence on January 14. Just one week later in a home dual against Carroll, Howley won the 200 Yard Breaststroke (2:15.15) and placed second in another 50 Yard Freestyle swim (22.08). To conclude the month, Howley won the 100 Meter Breaststroke in a dual meet at Lake Forest on January 28 with a time of 1:05.77.
Illinois Tech Swimming and Diving competes at the Liberal Arts Championships February 8-11 at Principia College in Elsah, Illinois. More information can be found here.