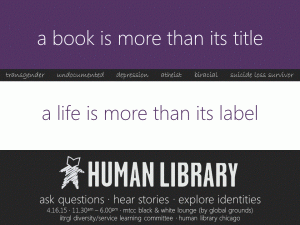 The Human Library Chicago, in collaboration with the IIT Residence and Greek Life Diversity and Service Learning Committee is proud to bring to Illinois Institute of Technology, "Human Library" on Thursday, April 16, 2015, from 11:30 a.m.-6 p.m. in The McCormick Tribune Campus Center (MTCC) Black & White Lounge. The lounge is near Global Grounds and IIT Bookstore.
The Human Library is an innovative method designed to promote dialogue, reduce prejudices and encourage understanding. Visitors to a Human Library are given the opportunity to speak informally with "people on loan," this latter group being extremely varied in age, sex and cultural background.
Learn more about Human Library Chicago here.
This event reflects the values expressed in IIT's Diversity Statement and is intended to promote diversity at IIT.